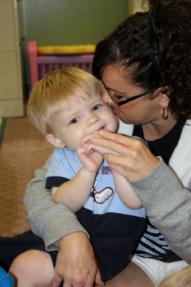 HOW WE BEGAN
Our child care ministry began in 1983 by a grandmother in our church. From her own experience, she knew that mothers of young children needed some "me" time to recharge their batteries.
Thus, our first "Mother's Day Out" program was born.
Over the years, child care needs have changed dramatically. The focus on early childhood education has become much more prominent. But, the basic need to provide a fun, loving, nurturing environment for a child to develop is still the same.
Thus, our St.Timothy Preschool program was born in 2005.
OUR MISSION
Our mission is to reach out to the children of our community with the gospel of Christ by providing loving, Christian care and exemplary preschool education in a safe and fun environment.